AutoKnow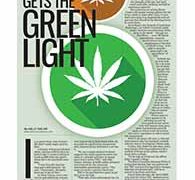 In so many ways, Joey Cowan's life didn't really begin until he died. A history of drug and alcohol abuse, starting with his first six-pack at age 11, came crashing to a halt in 2008 when his opiate abuse led to the inevitable overdose.
'I was clinically dead for nine-and-a-half minutes,' he said. 'Fortunately, the ambulance got to me in time.'
So when Cowan, now a contractor and addictions counselor in Winnipeg, Canada (pop. 670,000), has strong opinions on the legalization of marijuana (now in place in Colorado, Oregon, Washington and Alaska, and pending in Canada) he has arrived at them the hard way and doesn't mince words when it comes to stoned drivers.