Tabitha
Tabitha's Latest Posts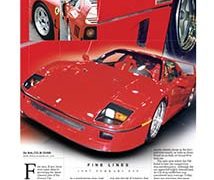 Few cars, if any, have ever come close to providing the sheer visceral awe of the Ferrari F40. Perhaps that's the way Enzo would have wanted it. The F40 was personally conceived by founder Enzo Ferrari as a dual-purpose car. One that could be driven at the race track and then legally on the street, just like most of his earlier creations dating back to the late 1940s.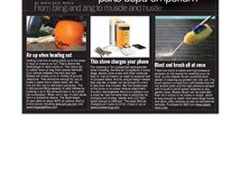 Making everyday items out of car parts isn't new, but the clocks made by race mechanic/engineer Nathan O'Dell of Manchester, England, are definitely unusual. Each one is encased in a component from various (but actual) Formula One racecar wheel hubs. O'Dell also includes the actual part number stamped into the metal for verification and provenance purposes.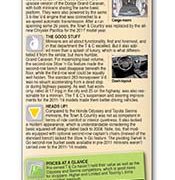 Minivans are all about functionality, first and foremost, and in that department the T & C excelled. But it also added more than a splash of luxury, which is what differentiated it from the similar, but more humble, Grand Caravan. For maximizing load volume, the second-row Stow 'n Go feature made the second-row bench seat disappear beneath the floor, while the third-row seat could be equally well hidden.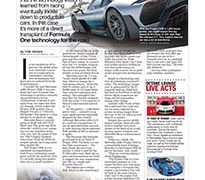 On the rarefied air of exotic hypercars, the global arms race continues to escalate at a rapid pace as automakers develop new technologies that push cars to unheard of levels of performance.  Consider the new Mercedes-AMG Project ONE, a two-seat beast that uses Formula One technology to produce astonishing performance levels: Acceleration to 200 km/h (124 mph) from rest takes less than six seconds, which makes the Project ONE quicker than a Bugatti Veyron or a Porsche 918 Spyder. Top speed is a crisp 350 km/h, or about 217 mph. Mercedes-Benz is actually going to build and sell 275 of these cars. The price tag? How about $2.7 million or so, assuming you can somehow work your way into the queue of buyers.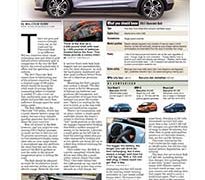 There are pros and cons to virtually every car on the road and the Chevrolet Bolt is no different. But any concerns about range, recharging time and electric-grid infrastructure ultimately pale in comparison to the way the Bolt drives, the overall practicality it offers and the operating cost it reduces.
The 2017 Chevrolet Bolt comes close to eliminating one of the primary concerns. It has a claimed range of 238 miles, which should be enough for a full week of average daily commuting before a recharge is needed.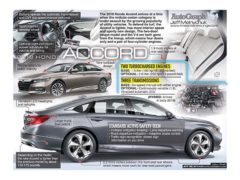 Weekly automotive infographics that inform, enlighten and delight readers. Our high-impact infographics add visual appeal and variety to your auto-section pages. Wheelbase's designers are some of the best in the business with numerous awards for dynamic newsgraphics and page design.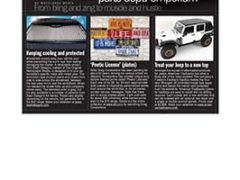 Few people will ever own or even ride in an exotic supercar such as the McLaren 570S, but at least tiny tykes aged 3 and under can have that experience in the ride-on version from Step2. The company has teamed up with McLaren to create this neat sidewalk roadster with some very handy features that include dual (sippy) cupholders, a storage area beneath the seat and, best of all, electronic McLaren engine revving sounds.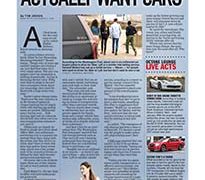 At first blush, the dire message served up by author Robbie Kellman Baxter sounds an alarming note.
In a press release provocatively titled 'Is Car Ownership Becoming Obsolete?' Baxter warns, "People who 10 years ago couldn't imagine not owning a car now find that today it's a very viable option. The way consumers view car ownership is shifting dramatically."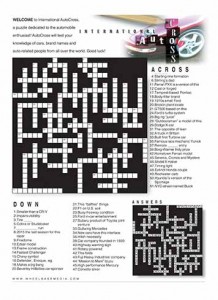 For the auto thrill-seeker, this is one of the most unique additions to your publication. The International AutoCross will test the knowledge of your readers with trivia that scours automobile parts bins, dealer showrooms and the history of people and places that have made the automobile what it is today. Retain readers and have them coming back on a regular basis for more. Like Wheelbase's other features, International AutoCross comes to you formatted and ready to use.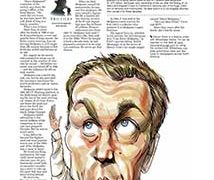 More than 35 years after his death in 1980 at age 50 of mesothelioma, a rare and painful form of lung cancer, the Rolex-watch wearing, fast-car driving McQueen is still larger than life mainly because so few lived one as fast and furious as he did. His impact on the movie and automotive scene can be counted in the number of vehicles he owned (265 before his estate was auctioned off in 1984) and the influence he left on both worlds.