Tabitha
Tabitha's Latest Posts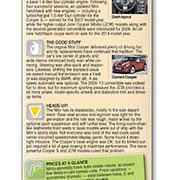 The original Mini Cooper delivered plenty of driving fun and its replacements have continued that tradition. The car's low center of gravity and wide stance minimized body lean while cornering. Steering was ultra-quick and responsive. Likewise, shifting the standard-issue six-speed manual transmission was a treat (it was designed by BMW, after all). A six-speed automatic was optional.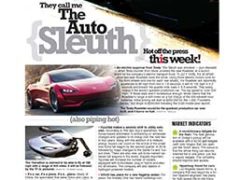 If you could have only one automotive feature, this should be it. At Wheelbase Communications, we've chosen to stay away from providing an automotive-news column until we could do it in a non-traditional way. And here it is: the Auto Sleuth. Our worldly gumshoe has his ear to the ground, digging up the latest news on everything from product launches and updates to names in the news. The column is solely driven by reader interest. No boring statistics or auto-company pap here, just the straight goods peppered with the Auto Sleuth's commentary and speculative, gossipy-style.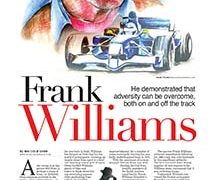 Auto racing is so dangerous that there is perhaps a sense of irony, or disbelief, when someone involved in the sport (even a team owner) is injured or killed doing something that's considered normal, like driving down the road. On March 6, 1986, Frank Williams, who had become a formidable player in Formula One, the world's premier auto racing series, was at the Paul Ricard circuit in the south of France.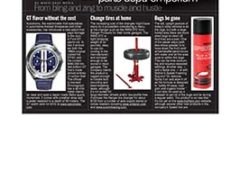 Autodromo, the watchmaker that specializes in automotive-themed timepieces and other accessories, has introduced a new watch that pays homage to the iconic Ford GT sports car. In fact it embodies both the 1960s original (called the GT40) and the current $450,000 limited-edition GT that's made almost entirely of carbon fiber. The officially licensed Chronograph has a 40-millimeter-diameter case and uses a Japan-made Seiko quartz movement.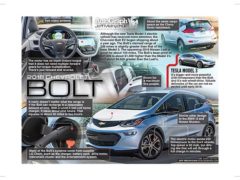 Weekly automotive infographics that inform, enlighten and delight readers. Our high-impact infographics add visual appeal and variety to your auto-section pages. Wheelbase's designers are some of the best in the business with numerous awards for dynamic newsgraphics and page design.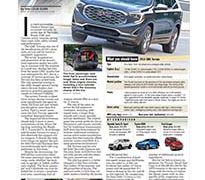 In rapid succession, General Motors has recreated virtually its entire line of Chevrolet, Buick, GMC and Cadillac utility vehicles, giving them more style, safety content and performance. The GMC Terrain was one of the beneficiaries of GM's clean-slate revival and the result is singularly impressive.  The newly launched second generation of the brand's least-expensive model has nothing in common with the original, in a good way.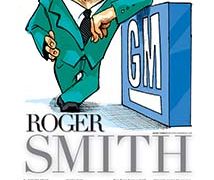 It was the early 1980s and General Motors was on top, sitting comfortably with a 46 percent share of the North American market. (Today, it's less than 20 percent.)  The question: could the Asian and European automakers really compete with GM using low-cost cars?  What Smith said spoke volumes about his tenure as GM's chief executive officer (CEO).  "Why, our answer to that is a two-year-old Buick." And that was all you really needed to know about Smith, a man who died in 2007 at age 82.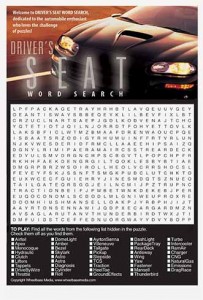 What it is: Why are auto publications so dry and so serious? We're living proof that car nuts have a sense of humor and want to have a little sugar on their Corn Flakes. Your readers will have fun with the "Driver 's Seat" Word Search as they unearth people, places and events. Driver 's Seat is just one step in making your auto product more interactive, which provides more exposure for advertisers and more revenue for all.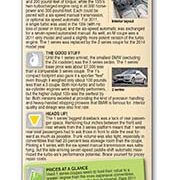 Until the 1 series arrived, the smallest BMW (excluding the Z4 roadster) was the 3 series sedan. The 1 series' base price was about $7,500 less than a comparable 3 series coupe. The 1's compact footprint also gave it a sportier 'feel' even though it weighed only about 100 pounds less than a 3 coupe. Both non-turbo and turbo six-cylinder engines were sprightly performers, but the higher output 135i was the swiftest by far.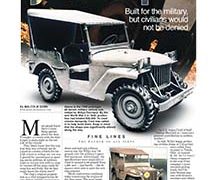 Most people know there's something special about the Jeep Wrangler, a vehicle with the door hinges in plain sight on the outside of the vehicle.  They likely know that the original Jeep was certainly not designed as a status vehicle for the high school or college set, nor was it geared for recreational or sporting use by millions of outdoors types or anyone else with an urge to venture off the main roads for some fun and frolic. But do they really know the whole story?