Tabitha
Tabitha's Latest Posts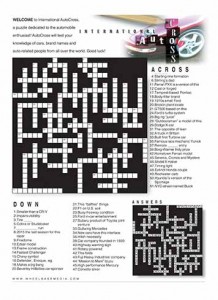 For the auto thrill-seeker, this is one of the most unique additions to your publication. The International AutoCross will test the knowledge of your readers with trivia that scours automobile parts bins, dealer showrooms and the history of people and places that have made the automobile what it is today. Retain readers and have them coming back on a regular basis for more. Like Wheelbase's other features, International AutoCross comes to you formatted and ready to use.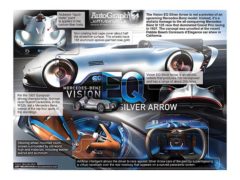 Weekly automotive infographics that inform, enlighten and delight readers. Our high-impact infographics add visual appeal and variety to your auto-section pages. Wheelbase's designers are some of the best in the business with numerous awards for dynamic newsgraphics and page design.

A treasure trove of essential automotive quick hits. After designing a highly successful Almanac for one of our daily-newspaper customers, we wondered if we could put together an automotive version. As a result, your new Auto Almanac contains trivia, concept-car spy info, auction notes and even games. All along the way, we invite readers to interact and submit their own ideas.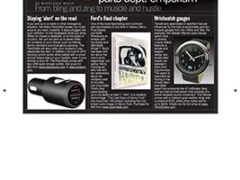 Most of us have watched vehicles on rotating turntables at auto shows, but there's a practical side to them as well. San Diego-based Carturner builds its patented stainless-steel turntables for both indoor and outdoor use. They are especially handy in tight driveways or in garages where maneuvering your vehicle is difficult. The company also has professional applications, such as for commercial photographers.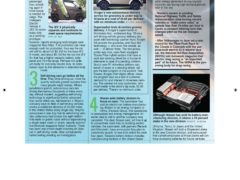 The first "green" feature. One of our most popular new weekly features takes a look at the auto world from the unique perspective of fuel efficiency and technology as it relates to the environment, from hydrogen, hybrids, electric power and other alternative methods of propulsion. "Shift" is exactly that: a shift in thinking. What will the vehicle of tomorrow look like? Your readers can find out today in Shift. This predesigned module can be used as-is or reconfigured to fit just about any space.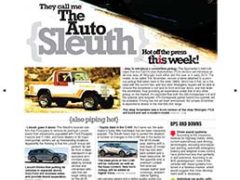 If you could have only one automotive feature, this should be it. At Wheelbase Communications, we've chosen to stay away from providing an automotive-news column until we could do it in a non-traditional way. And here it is: the Auto Sleuth. Our worldly gumshoe has his ear to the ground, digging up the latest news on everything from product launches and updates to names in the news. The column is solely driven by reader interest. No boring statistics or auto-company pap here, just the straight goods peppered with the Auto Sleuth's commentary and speculative, gossipy-style.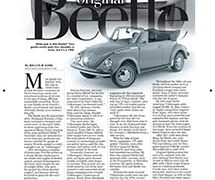 Most people are familiar with the rags-to-riches story of what became a mainstay on North American roads, and introduced millions of drivers to the joys of cheap, efficient automobile ownership. If you or your family never owned a Beetle, you certainly had plenty of friends, family or co-workers who did.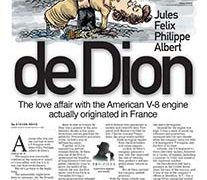 De Dion's company struck gold in 1899 with the creation of a high-speed single-cylinder engine that would be licensed to 150 different carmakers and motorcycle manufacturers and find its way into de Dion's own cars.  By 1900, de Dion-Bouton was the world's largest carmaker with an annual production of 400 vehicles and 3,200 engines.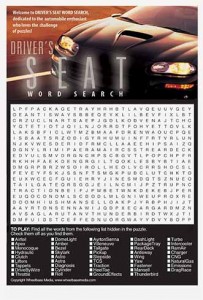 What it is: Why are auto publications so dry and so serious? We're living proof that car nuts have a sense of humor and want to have a little sugar on their Corn Flakes. Your readers will have fun with the "Driver 's Seat" Word Search as they unearth people, places and events. Driver 's Seat is just one step in making your auto product more interactive, which provides more exposure for advertisers and more revenue for all.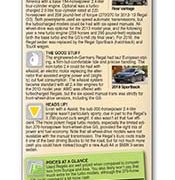 The engineered-in-Germany Regal had taut European styling, a firm-but-comfortable ride and precise handling. The non-turbo 2.4 could be had with eAssist, an electric motor replacing the alternator that assisted engine power and (slightly) cut fuel consumption. The eAssist system became standard with all 2.4-liter engines for the 2013 model year.