Overhaulit
Come along for the ride in this 100-part series as we take three class cars – a 1965 Ford Mustang, a 1963 Chevrolet Corvette and a 1970 Plymouth – and overhaul them into dream rides!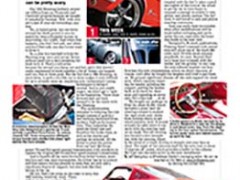 Ahhhh, the look of a freshly restored 45-year-old car. It's shiny. It's new. But even on its very best day, it still drives like a 45-year-old new car and that can be pretty scary. Our 1965 Mustang fastback project car differs from our Plymouth and Chevrolet projects because we bought it completely finished. Well, with new parts and 45-year-old technology, anyway.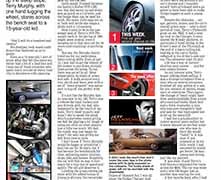 Gunning the engine up the steep slope, Terry Murphy, with one hand tugging the wheel, stares across the bench-seat to a 15 year-old-kid. "She'll still do a hundred and twenty." His deadpan look oozed confidence that bordered on arrogance.
Looking back, maybe keeping the car paid tribute to a man my dad jokingly referred to as "Merry Turphy."
Then again, maybe it was just fate.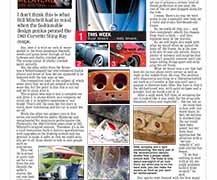 I don't think this is what Bill Mitchell had in mind when the fashionable design genius penned the 1963 Corvette Sting Ray coupe. But, here it is with an inch of water pooled in the front-passenger footwell, weeds and grass laced through all four hubcaps and chalky, cracked paint. The wrong colour of chalky cracked paint, actually.
The motto quickly became, "well, we're in this far, we might as well do it right."
Let's hope so.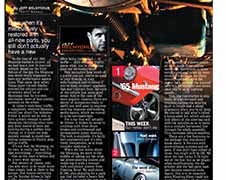 Even when it's meticulously restored with all-new parts, you still don't actually have a new vehicle.
In the case of our 1965 Mustang fastback project, all we had was a new 45-year-old vehicle. Based on the Ford Falcon of the day, the Mustang was never really supposed to have any performance aspirations. That came later when Texas racer Carroll Shelby entered the picture and constructed a small lot of Mustangs that, by his own admission, were at best cranky animals on the street.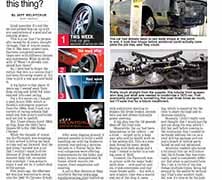 This is a car that I've personally owned for 30 years, straight through. That of course means that it, like many project cars, has been completed several times over with different themes and statements. What do we do with it? Wasn't it already completed four times? So, I have had to forget the notion that this is a canvas that I just keep throwing money at. It's time to pick a real goal and build it.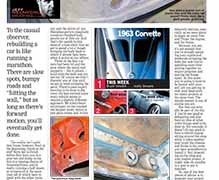 To the casual observer, rebuilding a car is like running a marathon. There are slow spots, bumpy roads and "hitting the wall," but as long as there's forward motion, you'll eventually get done. This "marathon" happens to be a 1963 Corvette – a masterpiece of design, but not much in terms of engineering – a worthwhile recipient of a restoration if there ever was one.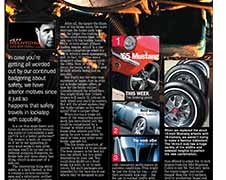 Is a car that stops faster and turns on demand while remaining stable or controllable a safe car? Or is it a better performer? The answer is both, of course, so if we're not appealing to your good sense to stay alive, perhaps you'll be turned on by reduced stopping distances, no brake fade and razor-sharp handling, which is also part of a safe car.
The interesting thing about safety, or a lack thereof, is that it creates a certain tentativeness and a reluctance, neither of which are welcome copilots in a vehicle.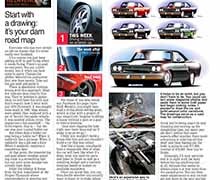 Start with a drawing: it's your darned road map.
Everyone who has ever owned an old car knows that it's never really ever finished. It's a canvas you just keep adding stuff to and fixing when it needs fixing. There's no goal, no end point. You put a little money into it when you have some to spare. There is absolutely nothing wrong with this approach. Most hot rods are done exactly this way.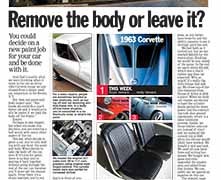 You could decide on a new paint job for your car and be done with it. And that's exactly what we were thinking when it came to the not-so-shiny 1963 Corvette coupe we purchased from a sleazy used-car emporium in the Bronx, N.Y. But then our paint-and-body expert said, "You know, we could do a much better job and it would actually be easier if we took the body off the frame." Easier. Perhaps in one respect, but when you make this decision, you are entering a hell storm with every other aspect of the car.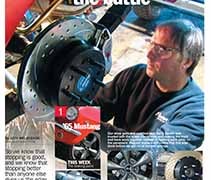 So we know that stopping is good, and we know that stopping better than anyone else gives us the edge on the street in terms of safety and on the track in terms of performance.
But, we have a curve ball in all this: just because you transplant bigger and better brakes onto your vehicle doesn't necessarily mean it will stop any better than before.