AutoPilot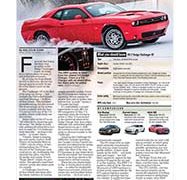 For a car that burns the back tires as easily as the Dodge Challenger, a new all-wheel-drive option seems obvious, if not downright necessary.
By driving the front wheels as well as the rears, the car has enough grip to actually be useful when there's snow on the ground.
The Challenger GT is the first of the pony-car group (that includes the Chevrolet Camaro and Ford Mustang) to drive all four wheels. This is indeed groundbreaking, but also incredibly frustratingly as the system is only available with the base V-6 and not with any of the V-8 models, which could really use the traction.